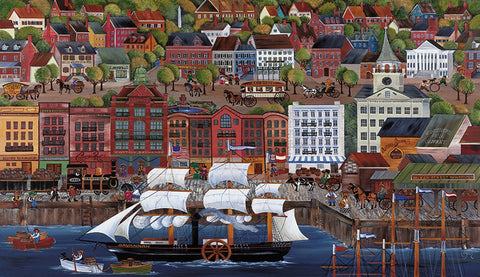 Product Information
Premium quality boxed holiday cards. 12 cards and 12 deluxe envelopes in each box. Cards come either BLANK or with our standard message, "Wishing you happiness and joy during this beautiful holiday season and throughout the coming year."

*Please specify in the drop-down box above if you want boxed cards (perfect for individuals and families with smaller mailing lists) or if you are ordering on behalf of a firm, business, or office and will want to bulk order flat cards.
History
Located up the Savannah River on the Georgia coast, not far from Charleston, Savannah grew more slowly than its South Carolina sister port.  But after the Civil War, Savannah became the primary Atlantic seaport for cotton.
In this scene, you can see the Cotton Exchange (the tall brick building just left of the picture's center), a hub of commercial activity that was known as "King Cotton's Palace" and is now home to the city's chamber of commerce.  The Georgia Railroad installed tracks to haul cotton here from the farms and other goods to the heart of the country.  To capture the spirit of the Savannah waterfront, artist Carol Dyer included gentlemen in fine suits conducting business, families enjoying a stroll, and women peddling crabs and shrimp, which they carry on top of their enormous hats.
In the forefront of the scene is the steamship Savannah.  A sailing vessel fitted with a steam engine and paddle wheels, she crossed the Atlantic partially under steam power in 1819, proving that a steamship could operate on the open ocean and paving the way for future transatlantic steam service.
Another of Savannah's prominent thoroughfares, Bay Street, can be seen running parallel to River Street.