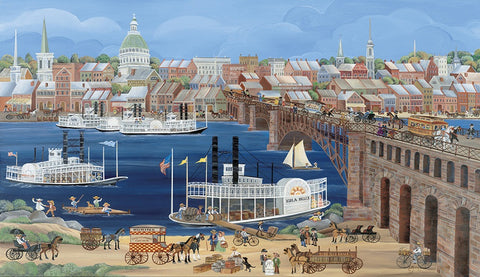 (X-3) St. Louis Gateway to the West
Product Information
Premium quality boxed holiday cards. 12 cards and 12 deluxe envelopes in each box. Cards come either BLANK or with our standard message, "Wishing you happiness and joy during this beautiful holiday season and throughout the coming year."

*Please specify in the drop-down box above if you want boxed cards (perfect for individuals and families with smaller mailing lists) or if you are ordering on behalf of a firm, business, or office and will want to bulk order flat cards.
History
Founded by the French in 1764, St. Louis became the "Gateway to the West" after the Louisiana Purchase in 1803.  As a steamboating center, it had water connections stretching thousands of miles from Pittsburgh to Montana to Minneapolis to New Orleans....
The historic Eads Bridge, built in 1874 to link St. Louis to Illinois and improve the flow of transportation, was the largest bridge ever built at the time and the first to incorporate steel arches in its design.  
This view of the city is from the east bank or Illinois side of the Mississippi and shows cargo being unloaded and passengers waiting to board a sidewheeler.  Also included are the old courthouse dome and the spire of the Cathedral of St. Louis, both of which can be visited today.